Monfort College of Business
A sound investment for your future
UNC's Kenneth W. Monfort College of Business (MCB) delivers excellence in business education, and is the first and only business program to receive the Malcolm Baldrige National Quality Award from the Office of the President of the United States (2004).
UNC offers highly ranked programs with small class sizes - which allows students to connect with faculty and each other on a more personal level.
A Top Business School
The Association to Advance Collegiate Schools of Business (AACSB International) awards accreditation to the top business schools worldwide, and MCB is among the elite schools accredited in both business administration and accounting.

MCB News
Summer BAMG 456 Class Competes & Earn Distinctions in GLO-BUS Competition
GLO-BUS is an online business strategy simulation that pits groups of students against other students worldwide. The objective is to craft and execute a competitive strategy for their business that results in a respected brand image, keeping the company in contention for global market leadership, and having high financial performance.
The summer BAMG 456 class led by Dalong Ma was split into eleven groups in which five groups competed in Industry 3 and six groups competed in Industry 4. Dr. Ma was ecstatic at how well his students did among so many other colleges worldwide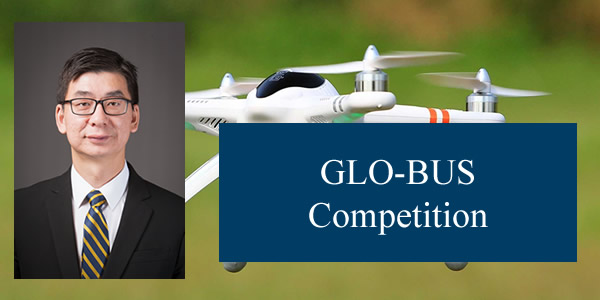 Congratulations to Aili Bundy
The Colorado Chapter of Financial Executives International (FEI), a leading organization whose mission is the advancement of senior financial executives, their organizations, and the profession, is offering scholarships to accounting and finance majors from nationally accredited colleges and universities in Colorado.

Congratulations to the class of 2020! You have accomplised so much and come so far. We wish you the best as you transistion to life after college and invite you to join us on LinkedIn.
MCB Faculty & Staff Awards
Student voting has concluded and the results are in...
Staff: Melissa Hoffman

Accounting: Philipp Scharberl

Computer Information Systems: Moe Manshad

Finance: Christine McClatchey

Management: Milan Larson

Marketing: Daniel Brannon

MCB Faculty Member of the Year: Christine McClatchey
How Supply Chains are Being Impacted by Coronavirus
The coronavirus (COVID-19) has uncovered numerous flaws in supply chains, according to Mike Loughrin, an adjunct professor in the online Master of Business Administration program at the University of Northern Colorado and CEO of Transformance Advisors, a consulting and education company for businesses.
"I know many experts claim supply chains are nimble and responsive, always sensing customer demand and able to rapidly react to changing conditions," Loughrin said. "Coronavirus has exposed the truth: long lead times, lack of flexibility, shortage of local suppliers and complexity, which makes our supply chains act like a house of cards."
UNC Expert: Slowing Spread of Coronavirus Will Help Rebound Financial Markets
The coronavirus (COVID-19) pandemic is creating a different set of challenges for financial markets, and making future events incalculable, according to Joe French, a professor of Finance at the University of Northern Colorado.
The possible recession's severity and length depends on the progression and control of further infection rates around the world. The lack of experience in dealing with pandemics is exacerbating the ability to predict the market's direction.
Coronavirus Panic Buying Follows Marketing Theories
Toilet paper, pasta and hand sanitizer seem to be as rare and valuable as gold nowadays due to consumers hoarding these and other supplies due to fears of the coronavirus (COVID-19).
But this isn't out of the ordinary during such unexpected and stressful times, according to Daniel Brannon, Ph.D., an assistant professor in UNC's Monfort College of Business and an expert in consumer behavior.
Students: How to Stay Sane and Grow Your Personal Brand on Social Media
As of mid-March 2020, it's hard to log in to social media without seeing a gamut of COVID-19 posts. As the United States and other countries respond to the virus outbreak with recommendations for social distancing, and universities close their on-campus doors for the rest of the semester, how can students stay connected without getting drawn into the negative social media?
Professional Attire Closet Opens its Doors
Do you have an interview, class presentation, a networking opportunity, or any type of event you find yourself in need of professional attire coming up? UNC has a new Professional Attire Closet located in Kepner Hall. It is free to use and available to UNC students.
UNC Announces MCB's Next Dean
The University of Northern Colorado is pleased to announce that Dr. SherRhonda "Sher" Gibbs will become the next dean of the Kenneth W. Monfort College of Business. Gibbs currently serves as interim director of the University of Southern Mississippi's School of Management, the largest school in the College of Business in Hattiesburg, where she holds the Alvin Williams Endowed Chair of Minority Entrepreneurship.
Preparing Our Students

MCB focuses on both oral and written presentation skills and provides opportunities to develop these skills in the classroom. Because group decision-making is pivotal in today's business environment, student teams are prevalent in MCB classes.

Internships, real-world classroom projects and memberships in professional organizations give our students practical experience to prepare them for the business world.
Degree Options
UNDERGRADUATE
Our undergraduate programs include Business Administration degrees in Accounting, Computer Information Systems, Finance, General Business, Management and Marketing, as well as a Software Engineering program, in collaboration with the College of Natural and Health Sciences.
GRADUATE
At the graduate level, UNC offers a Master of Accounting (MAcc) which satisfies Colorado's and most other state's 150-hour requirement for licensing as a CPA. UNC's Master of Business Administration (MBA) is a flexible program that offers specialization in healthcare administration, human resources management or general business management.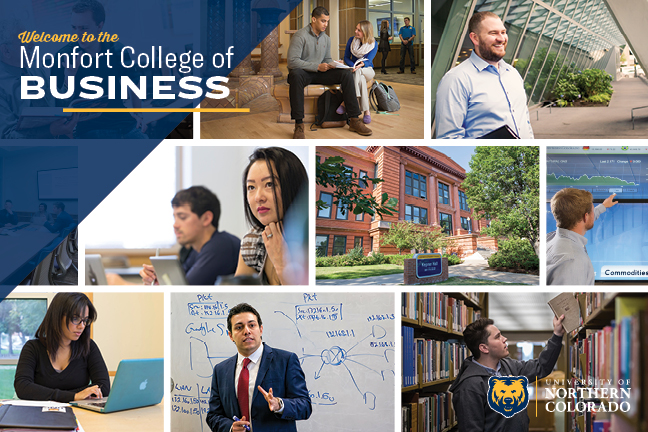 Producing Ethical Leaders
The Monfort College is proud to be one of twelve partners in the Daniels Fund Ethics Initiative Collegiate Program.
Top 15% Nationally
MCB seniors have placed in the top 15 percent of graduating business school seniors nationwide since 2003, according to the Educational Testing Service Major Field Test.
Entrepreneurial Hub
The Monfort College of Business is home to the East Colorado Small Business Development Center and the annual Colorado Entrepreneurial Challenge competition.
Maybe You're
One of Us
Here, you're an individual with your own unique mix of interests — and our differences are what we have in common.
#coloradorockies
#athletics
#business
Financial Education Center
UNC's million-dollar Financial Education Center serves diverse needs for financial literacy within the Monfort College of Business and the university community. Students gain hands-on experience in the trading room and share knowledge with faculty and peers in the FEC's technology labs and social spaces. High-tech classrooms, conference space and student collaboration rooms are available to students, reflecting UNC's continued commitment to small-group, student-focused learning.