Letter From The Provost:
I am delighted to let you know that Dr. Ken Colwell has agreed to serve as the Dean of the Monfort College of Business beginning July 1, 2023.
We were fortunate to have a number of strong candidates interested in the position of Dean of the Monfort College of Business. Dr. Colwell was chosen because of the broad support he received from multiple constituencies, his existing successful experience leading colleges of businesses combined with his experience in industry, his commitment to creating an inclusive environment for all students and employees, and his entrepreneurial and creative approach to his work. I have no doubt that Dr. Colwell has the background, experience, and skills to facilitate the continued and growing success of the Monfort College of Business.
Thanks to all members of the campus community who participated in the search, and special thanks to the members of the MCB dean search committee for their vital service in this important search:
Alaina Bobo

, MCB Student Representative

Joseph French

, Professor & Department Chair, Finance

Cristina Goletti

, Dean, College of Performing & Visual Arts

Abe Harraf

, Professor, Management

Shawn Osthoff

, Dean's Leadership Council Representative

James Reardon

, Search Committee Chair, Professor, Marketing

Jacob Rose

, Professor & Department Chair, Accounting

Philipp Schaberl

, Associate Professor, Accounting

Kristi Schneider

, Interim Business Operations Manager/Student Faculty Support Specialist
Please join me in congratulating and supporting Dr. Colwell as we work to realize the vision of the Monfort College of Business, which is to prepare all students "...for leadership and successful careers through immersive learning and a student-centered career development series."
Best Regards,
Kirsten Fleming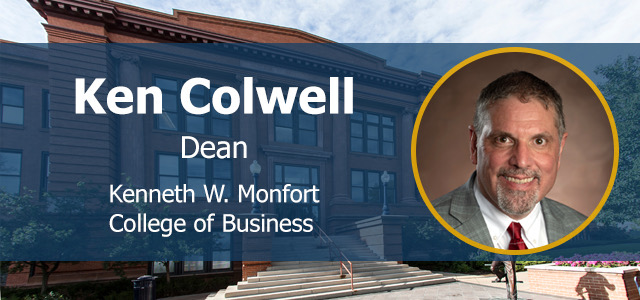 ---
The Wall Street Journal covers breaking news and current headlines from the US and around the world.
CapIQ is a market intelligence platform designed by Standard & Poor's. The platform is widely used in many areas of corporate finance.
Bloomberg delivers business and markets news, data, analysis, and video, featuring stories from Businessweek and Bloomberg News.
UNC's Kenneth W. Monfort College of Business (MCB) delivers excellence in business education.
We recognize group decision-making is pivotal in today's business environment so students teams are prevalent inside our classrooms. Internships, real-world classroom projects and memberships in professional organizations provide practical experience to prepare you for the business world.
UNC offers highly ranked programs with small class sizes - which allows students to connect with faculty and each other on a more personal level.
Financial Education Center
UNC's million-dollar Financial Education Center serves diverse needs for financial literacy within the Monfort College of Business and the university community. Students gain hands-on experience in the trading room and share knowledge with faculty and peers in the FEC's technology labs and social spaces. High-tech classrooms, conference space and student collaboration rooms are available to students, reflecting UNC's continued commitment to small-group, student-focused learning.