Welcome to the Monfort College of Business, where we are dedicated to leading the way in immersive business education and career preparation. Our mission is clear: to prepare students for leadership and successful careers through immersive learning and a student-centered career development series. We achieve this by equipping our students with essential knowledge, tools, and inspiration, advancing business practices through quality research, promoting entrepreneurship, and fostering professional engagement within the community. As an AACSB accredited institution, we are committed to providing the highest quality education and empowering our students to reach their full potential. Join us in shaping a brighter future for business leaders.

---

Experiential learning at MCB is not just a buzzword; it's the foundation of our educational philosophy. We believe that true learning happens not only within the walls of a classroom but out there in the real world. That's why we're committed to providing our students with immersive, hands-on experiences that set them up for success.

Our Legacy as a Top Business School
The Association to Advance Collegiate Schools of Business (AACSB International) awards accreditation to the top business schools worldwide, and MCB is among the elite schools accredited in both business administration and accounting. More info and metrics.
Monfort College of Business is the first and only business program to receive the Malcolm Baldrige National Quality Award from the Office of the President of the United States (2004).

Who We Are
Vision: The Monfort College of Business will serve as a leading provider of immersive business education and career preparation.
Mission: The Monfort College of Business prepares students for leadership and successful careers through immersive learning and a student-centered career development series.
We support our mission by: Equipping students with the necessary knowledge, tools and inspiration to reach their potential. Advancing business practice through quality research. Promoting entrepreneurship; and, professional engagement in the community.
---
Our Programs
The business world is constantly evolving, and that's why we offer a dynamic and cutting-edge business program that equips you with the skills, knowledge, and confidence you need to thrive in today's competitive landscape. Explore different avenues of business that will be serve you in any career you choose.
---
Helpful Links
The Wall Street Journal covers breaking news and current headlines from the US and around the world.
CapIQ is a market intelligence platform designed by Standard & Poor's. The platform is widely used in many areas of corporate finance.
Bloomberg delivers business and markets news, data, analysis, and video, featuring stories from Businessweek and Bloomberg News.
---
Upcoming Events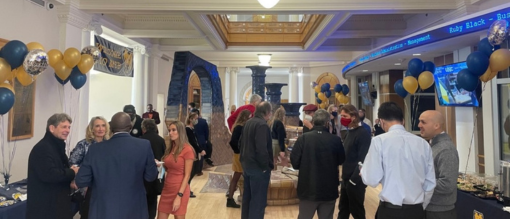 Fall 2023 Graduation Reception
Saturday, Dec. 9, 2023 | Kepner Hall Lobby
Immediately following the Commencement Ceremonies
We are thrilled to extend a warm invitation to all Fall 2023 graduates and loved ones for a special event that marks the culmination of hard work, dedication, and success—our Monfort College of Business Graduation Reception! Enjoy appetizers and warm beverages while connecting with your favorite faculty and staff members. It's a fantastic chance to reflect on the academic journey, share anecdotes, and celebrate the accomplishments of our talented graduates.
---
Welcome to the Entrepreneurship Ecosystem
The Innovation Talk series made its comeback on October 25th to provide the most recent and thrilling updates in Greeley and Weld County. View the live stream and listen to presentations from notable speakers representing organizations such as Prospanica, Diverge/Hensel Phelps, CNE Creative Enterprises, Tracks NA, Orion Labs, Vuba, and Alquist 3D, among numerous others.
Small School,
Big Outcomes
Our educators are not distant figures at the front of the room but mentors who build strong relationships with their students. We pride ourselves on the ability to deliver impactful experiential learning that is not only beneficial to students, but also to the community as a whole.
Financial Education Center
UNC's million-dollar Financial Education Center serves diverse needs for financial literacy within the Monfort College of Business and the university community. Students gain hands-on experience in the trading room and share knowledge with faculty and peers in the FEC's technology labs and social spaces. High-tech classrooms, conference space and student collaboration rooms are available to students, reflecting UNC's continued commitment to small-group, student-focused learning.