Welcome
Dear MCB Faculty, Staff and Students,
I'm excited to welcome everyone to 2022-2023 school year. We have made several changes since last year. The Advising Center and the Student Success Center has combined with a new advisor, professional experience coordinator, student success coordinator, and retention & outreach coordinator. Please stop by and visit the Advising/Student Success Center and find out about all the events that will be happening this year.
We also have the following new faculty joining MCB, Min Cao (Accounting), Robin Tang (CIS), Maurice Harris (Management), Lorena Garcia-Ramon (Marketing), and Nari Yoon (Marketing). I welcome you to get to know the returning and new faculty this year.
Sincerely,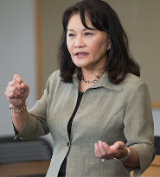 Dr. Keiko Krahnke
Interim Dean, MCB

The Wall Street Journal covers breaking news and current headlines from the US and around the world.
CapIQ is a market intelligence platform designed by Standard & Poor's. The platform is widely used in many areas of corporate finance.
Bloomberg delivers business and markets news, data, analysis, and video, featuring stories from Businessweek and Bloomberg News.
UNC's Kenneth W. Monfort College of Business (MCB) delivers excellence in business education.
We recognize group decision-making is pivotal in today's business environment so students teams are prevalent inside our classrooms. Internships, real-world classroom projects and memberships in professional organizations provide practical experience to prepare you for the business world.
UNC offers highly ranked programs with small class sizes - which allows students to connect with faculty and each other on a more personal level.
Financial Education Center
UNC's million-dollar Financial Education Center serves diverse needs for financial literacy within the Monfort College of Business and the university community. Students gain hands-on experience in the trading room and share knowledge with faculty and peers in the FEC's technology labs and social spaces. High-tech classrooms, conference space and student collaboration rooms are available to students, reflecting UNC's continued commitment to small-group, student-focused learning.