The Daniels Fund Ethics Initiative Collegiate Program was established to advance and promote the teaching of principle-based ethics in the University Business curriculum. Created in Bill Daniels' legacy, the Initiative seeks to foster a high standard of ethics and integrity in students, and to extend this reach past the campus and into the community. The Monfort College of Business makes ethics a top priority in its Business program, and is proud to be one of twelve regional schools that partner in the Daniels Fund Ethics Initiative Collegiate Program.
The Daniels Fund Ethics Initiative Collegiate Program encompasses the following eight principles: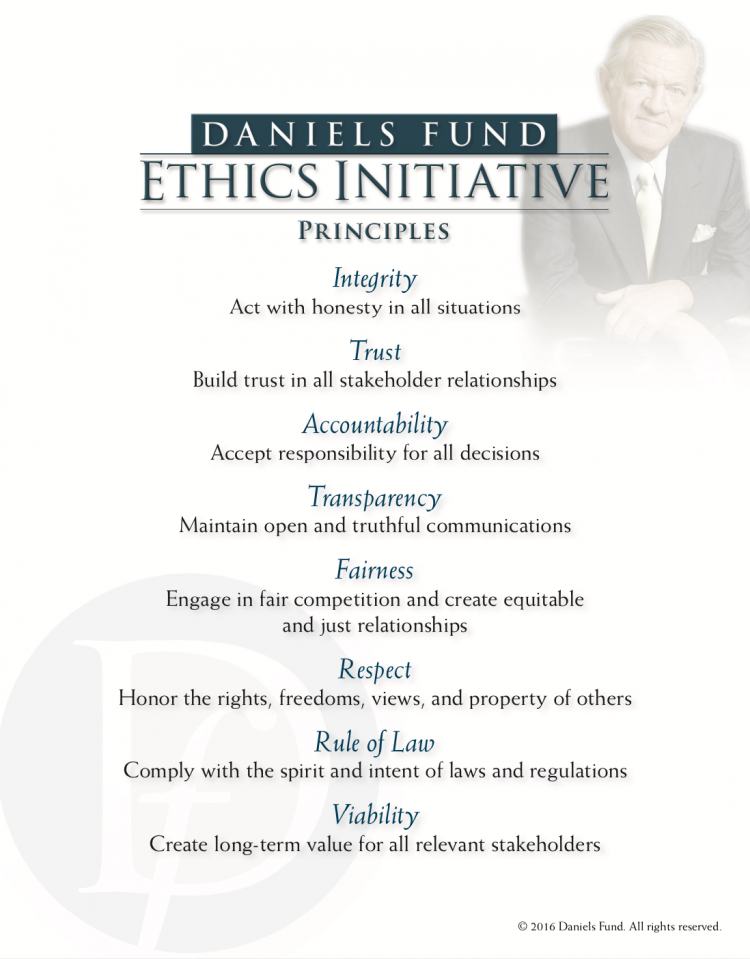 ---
Upcoming Ethics Events
Alfonzo Alexander
Alfonzo will speak on Ethical Dilemmas young professionals face early in their career with interactive videos and case studies. Alfonzo Alexander serves as chief ethics and diversity officer of the National Association of State Boards of Accountancy (NASBA) and president of NASBA's Center for the Public Trust (CPT).
October 23, 2023
Interactive Activity
12:20 - 1:10 PM
Kepner 1050C
Speaking Event
2:30 - 3:45 PM
Milne Auditorium / Kepner 2050
"The World Has Changed
But Values Shouldn't"
Presented by Shelley Polansky
Shelley Polansky, President/CEO for the Better Business Bureau serving Northern Colorado and Wyoming will share her experiences on leading a standards-based organization built on trust and ethics and how she approaches ethical dilemmas both personally and professionally.
October 12, 2023
12:30 - 2:15 PM
Milne Auditorium
---
"The Daniels Fund Ethics Initiative Collegiate Program has been integral to the tremendous success of UNC's Monfort College of Business and its students. Over the last decade, this program has provided more than 16,350 students, 950 local business people, and 920 faculty members an unparalleled active learning experience--centered on ethical decision making. We are so very proud to be a part of the Daniels Fund Ethics Consortium and for the continuing support of the Daniels Fund."

Andy Feinstein, President University of Northern Colorado
---
The Life & Legacy of Bill Daniels is the definitive account of Bill Daniels' life, detailing how his values and experiences shaped him and the foundation he established to continue his legacy of generosity.

We invite you to download a free copy of the book, compliments of the Daniels Fund Board of Directors. Download your free copy