Monfort College of Business Receives Nation's Highest Honor For Quality
The Kenneth W. Monfort College of Business at the University of Northern Colorado was a recipient of the 2004 Malcolm Baldrige National Quality Award - the nation's highest honor for quality and performance excellence. This marks the first time a college of business has received the Baldrige Award. As of 2016 we are still the only college of business to receive this distinction.
The College earned the award after going through a rigorous review of its business program. An independent team of Baldrige examiners from various industries throughout the U.S. spent approximately 1,000 hours reviewing the College's application and conducting an on-site examination.
The exhaustive review of the College's quality and results covered seven areas: leadership; strategic planning; student, stakeholder and market focus; measurement, analysis, and knowledge management; faculty and staff focus; process management; and organizational performance results.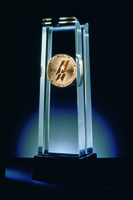 Applications for the award were submitted by organizations throughout the country representing the manufacturing, service, small business, education, and healthcare sectors. In addition to Monfort, three other 2004 award recipients were named including the Bama Companies (manufacturing category), Robert Wood Johnson University Hospital Hamilton (healthcare category), and Texas Nameplate Company, Inc. (small business category). Baldrige recipients are expected to share their lessons on management of quality with corporations and organizations across the nation.
Some of the past winners of the award include Boeing Aerospace Support (2003), Motorola Commercial, Government & Industrial Solutions Sector (2002), University of Wisconsin-Stout (2001), Operations Management International, Inc. (2000), The Ritz-Carlton Hotel Company, L.L.C. (1999), Xerox Business Services (1997), and Cadillac Motor Car Company (1990).
Named after the 26th Secretary of Commerce, the Malcolm Baldrige National Quality Award was established by Congress in 1987 to enhance the competitiveness of U.S. businesses. The award promotes excellence in organizational performance, recognizes the quality and performance achievements of U.S. organizations, and publicizes successful performance strategies.