MCB Marketing Students Attend Social Media Marketing World 2019
Four students and their professor recently attended the 3-day Social Media Marketing World mega-conference in San Diego. SMMW is an annual professional conference for marketers and entrepreneurs with top speakers and workshops about using Facebook, Twitter, LinkedIn, Instagram, Pinterest, blogging, video marketing, and more. More than 7,000 were in attendance.
Students were handpicked by MCB Marketing Professors, led by Marketing Professor Denny McCorkle, and sponsored by the UNC Monfort College of Business and the Monfort Foundation. The honorees included: Sydney Aeschlimann, Meaghan Croghan, Shawn Wolheim, and Suraj Dhillon.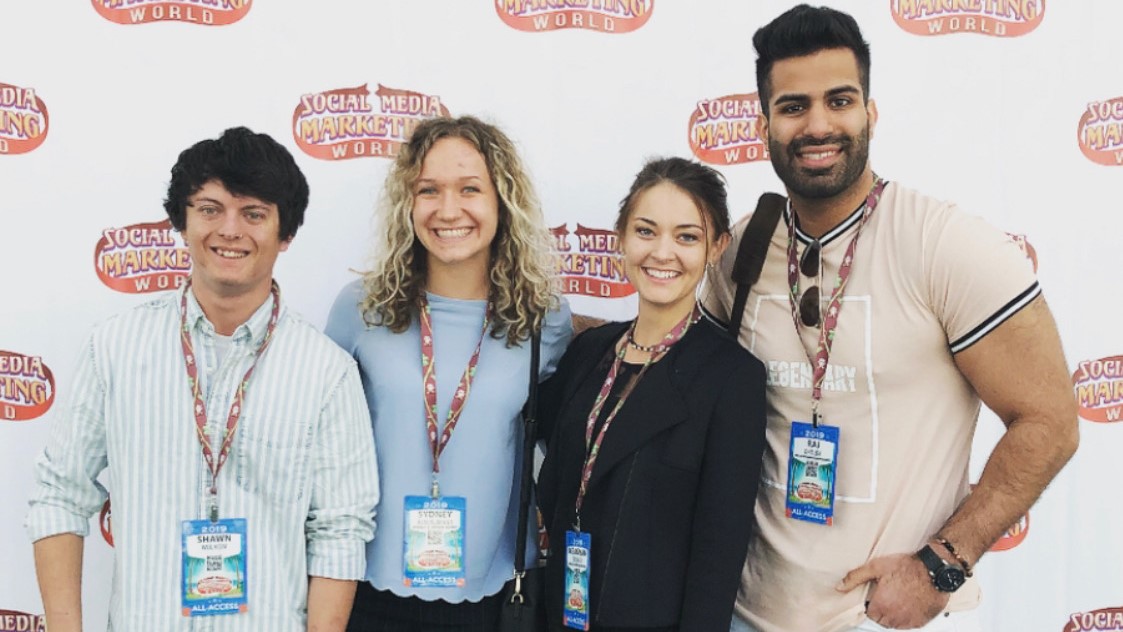 Conference web site: https://www.linkedin.com/feed/update/urn:li:activity:6515293833675227136
LinkedIn Posts from Denny McCorkle:
Testimonials from the students:
"Huge thank you to the Monfort College of Business for this awesome opportunity! I learned so much and met some awesome people in the marketing community! I am incredibly excited to take what I learned and apply it to the projects we are working on in Marketing Club as well as in my future career."
"One presentation truly inspired me and reiterated the reason I decided to go into Marketing. The speaker explained how marketing today should be more human. So long and farewell to the old death by ad suffocation and hello to caring about our customers by making every interaction more personal, genuine and human. I love this mentality and will be applying it in every project I work on from here on out."
"Whether it be through the Marketing Club or in my career, I want to make a difference and use marketing for good. I left this professional conference feeling confident in the future of the marketing field and excited to share and use all the information I learned!" Sydney Aeschlimann, Junior Marketing emphasis
Sydney's LinkedIn profile and Social shares about the conference
---
"My experiences at Social Media Marketing World 2019 was refreshing, thought-provoking, and humbling. Throughout the various seminars and workshops, there was an over-arching theme of respecting our customers and truly connecting with them at a human level, "human-to-human" marketing. This theme was a refreshing contrast to the push, pull, clicks, funnels strategies that we are endlessly focused on as marketers."
"But, how does a business truly connect with each of their customers? That question was answered throughout the conference, as well, in a simple sentence: "show that you care." To think that customers want their favorite brands to care about them as individual people is a humbling part of the business/human experience."
"I am truly grateful for the opportunity to learn and grow through this conference and I look forward to applying the human-to-human approach throughout my studies and my life beyond school." Meaghan Croghan, Senior Marketing emphasis
Megan's LinkedIn profile and Social shares about the conference
---
"What a tremendous and introspective opportunity we were given to attend and be a part of an event of this magnitude. I learned a lot and networked with many great and important professionals in the social media field at this event. I look forward to incorporating what I've learned into my own personal and professional social media endeavors and future projects at the University of Northern Colorado and for future clients."
"One thing that stood out to me at this event was a conversation I had with a professional who happens to be fairly revered within the LinkedIn Community. This man asked me why I have chosen the career path that I have and where I wanted to go. I proceeded to give what I thought was a very realistic and planned answer. He stopped me and asked me again, what exactly do I want to do and what do I aspire to do. It's not very often for someone of his professional status to take the time to hear my story of what I truly want to do and why I am qualified to do so."
"All the keynote presentations were of great value, but what really sticks with me was the ability to chat with potential employers and show and tell them what I have to offer." Shawn Wolheim, Senior Marketing emphasis
Shawn's LinkedIn profile and Social shares about the conference
---
"I would like to thank the Monfort College of Business for blessing me with the amazing opportunity to attend the annual Social Media Marketing World conference. I was able to learn and network with so many talented individuals, some with whom I will be doing business with in the near future. By attending this conference, I was able to immerse myself in the plethora of knowledge around me. Taking away many skills and life lessons which I look forward to using earnestly in the future." Suraj Dhillon, Senior Marketing emphasis.
Suraj's LinkedIn profile and Social shares about the conference