Combine Technical Skills with Critical Thinking
UNC's Monfort College of Business is one of the very few that is accredited by AACSB International in both business administration and accounting—the "gold standard" for accreditation.
It's a standard we take seriously, and students develop technical skills in financial accounting, auditing and tax and accounting systems while focusing on critical, strategic and global thinking. To deepen their experience, students gain hands-on experience and conduct accounting research to answer challenging business questions and learn how to communicate the answers to a range of business professionals.
Undergraduate students can pursue a Business Administration degree in accounting, while graduate students can earn a Master of Accounting (MAcc) degree.
News and Announcements
Fall 2016 Newsletter
Follow along as we welcome MCB Dean Paul Bobrowski, congratulate students who won first place at Daniels Ethics Competition, and other updates.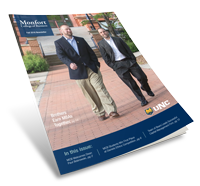 Master Course Syllabi
BAAC220: Principles of Accounting I
BAAC221: Principles of Accounting II
BAAC301: Survey of Accounting
BAAC320: Intermediate Accounting I
BAAC321: Intermediate Accounting II
BAAC322: Fraud Examination
BAAC323: Cost and Managerial Accounting I
BAAC325: Income Tax I
BAAC328: Accounting Systems
BAAC329: Tax Cases
BAAC420: Accounting Theory and Research
BAAC421: Advanced Accounting
BAAC422: Accounting Directed Studies
BAAC423: Cost and Managerial Accounting II
BAAC424: Accounting Ethics
BAAC425: Auditing I
BAAC427: Governmental and Institutional Accounting
BAAC429: Income Tax II
BAAC492: Internship in Accounting
BAAC495: Special Topics in Accounting
Contact Us
Accounting Department
Kepner 2090
Phone: 970-351-2855
"From my first day on campus, my experience at MCB has been more than I could have imagined. I cannot think of one teacher that doesn't have experience outside of the classroom, which is what I like most about MCB. The experiences and stories shared by professors make class more interesting and allow me to relate to what they are teaching. They tell you that they put their students first, and they have all followed through with that by going out of their way to make sure I succeed."
- Morgan Laustrup, Class of 2015