Combine Technical Skills with Critical Thinking
UNC's Monfort College of Business is one of the very few that is accredited by AACSB International in both business administration and accounting—the "gold standard" for accreditation.
It's a standard we take seriously, and students develop technical skills in financial accounting, auditing and tax and accounting systems while focusing on critical, strategic and global thinking. To deepen their experience, students gain hands-on experience and conduct accounting research to answer challenging business questions and learn how to communicate the answers to a range of business professionals.
Undergraduate students can pursue a Business Administration degree in accounting, while graduate students can earn a Master of Accounting (MAcc) degree.
News and Announcements
Fall 2016 Newsletter
Follow along as we welcome MCB Dean Paul Bobrowski, congratulate students who won first place at Daniels Ethics Competition, and other updates.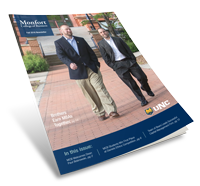 Vision, Mission, Values and Strategic Objectives
The Accounting Program, as one of the five areas of emphasis within the Monfort College of Business (MCB), supports both the University of Northern Colorado and the MCB in their responsibilities as designated by the Colorado Commission on Higher Education and in their respective missions as decided by faculty. In addition, because the Program strategically operates as a separate program, the Accounting Program puts forth the following Vision, Mission, Value and Strategic Objectives in order to serve its stakeholders efficiently and effectively.
Our Vision is to provide an excellent accounting education that prepares our students to have successful accounting related careers.
Our three-pronged Mission is to First, provide excellent accounting education with a strong undergraduate foundation and a focused graduate program that prepares primarily our state-wide residents for successful careers and responsible global citizenship.
Second, conduct and publish research that both enriches accounting practice and education and enhancing our teaching and the profession.
Third, benefit the accounting profession, our community, and other stakeholders locally, regionally, and nationally by participation in and service to both professional and community organizations through membership and leadership.
We value:
currency of curriculum
a safe and challenging learning environment
creative problem solving and diverse thinking
effective professional communication skills
ethical and community awareness
career and academic advising
independent and lifelong learning
student placement in entry level accounting positions
professional relationships and networking
Additionally, the Accounting Program identified the following five Strategic Objectives, which are consistent with MCB's strategic objectives and enable the Program to full its mission effectively and efficiently.
Attract and retain high-quality students.
Enhance the quality and currency of our curriculum, thus allowing students to pursue a wide variety of accounting careers or enter graduate school.
Emphasize career advising and placement of students in entry level positions in the accounting field.
Enhance the strength of our accounting faculty by hiring and retaining faculty dedicated to honorably serving students and the accounting profession through teaching, research and service.
Build on the excellent foundation in place with accounting employers to expand and develop more regional professional and employment relationships within the accounting profession.
MCB Accounting
Learning Goals

MCB Accounting Learning Objectives

Demonstrate knowledge of key concepts in major business disciplines

Students will score at the 80th percentile or higher on each section of the ETS Major Field Test.

Demonstrate effective communication skills

Students will demonstrate competency in preparing and delivering professional quality presentations on various accounting topics.

Students will demonstrate competency in preparing professional accounting documents.

Demonstrate conceptual and analytical skills

Students will analyze accounting data/information to identify key accounting issues, generate and evaluate appropriate alternatives, and propose feasible accounting alternatives at a competent level.

Demonstrate technology skills

Students will score a minimum of 80% on the BA 101 assessment of technological proficiency in the following business software packages: Microsoft Word, PowerPoint, and Excel.

Students will demonstrate competence in business software packages to solve accounting problems.

Students will demonstrate competency in the use of professional accounting software such as ACS, ACL, RIA's Checkpoint and a general ledger package.

Demonstrate knowledge of accounting ethics concepts

Students will score demonstrate competence on course-embedded ethics and social responsibility assessments.

Students will competently identify the ethical issues or problems in an accounting case based on the AICPA's Code of Professional Conduct and the Colorado State Board of Accountancy's Rules of Professional Conduct, analyze the consequences for various stakeholders and develop an acceptable resolution.

Demonstrate knowledge of key accounting concepts

Students will demonstrate competence on test questions specifically tied to individual course objectives (as outlined on course syllabi).
Master Course Syllabi
BAAC220: Principles of Accounting I
BAAC221: Principles of Accounting II
BAAC301: Survey of Accounting
BAAC320: Intermediate Accounting I
BAAC321: Intermediate Accounting II
BAAC322: Fraud Examination
BAAC323: Cost and Managerial Accounting I
BAAC325: Income Tax I
BAAC328: Accounting Systems
BAAC329: Tax Cases
BAAC420: Accounting Theory and Research
BAAC421: Advanced Accounting
BAAC422: Accounting Directed Studies
BAAC423: Cost and Managerial Accounting II
BAAC424: Accounting Ethics
BAAC425: Auditing I
BAAC427: Governmental and Institutional Accounting
BAAC429: Income Tax II
BAAC492: Internship in Accounting
BAAC495: Special Topics in Accounting
Contact Us
Accounting Department
Kepner 2090
Phone: 970-351-2855
"From my first day on campus, my experience at MCB has been more than I could have imagined. I cannot think of one teacher that doesn't have experience outside of the classroom, which is what I like most about MCB. The experiences and stories shared by professors make class more interesting and allow me to relate to what they are teaching. They tell you that they put their students first, and they have all followed through with that by going out of their way to make sure I succeed."
- Morgan Laustrup, Class of 2015