Creativity by Design
The development of software programs and applications is growing exponentially. Our graduates work on the edge of discovery in this evolving and growing field. Students focus on the history and principles of software engineering, data analysis and problem solving, ethical problems and issues, concepts of quality assurance and proficiency with state-of-the-industry technology.
Through a collaboration of MCB and the College of Natural and Health Sciences, students majoring in Software Engineering have access to UNC's Applied Networking Lab, which provides students with opportunities across all platforms, thanks to academic partners like Adobe, Microsoft, Oracle and IBM.
Software Engineering majors can choose from any minor offered at the University of Northern Colorado, including Business, Meteorology, Biology or other courses of study that can enhance this degree.
News and Announcements
Fall 2016 Newsletter
Follow along as we welcome MCB Dean Paul Bobrowski, congratulate students who won first place at Daniels Ethics Competition, and other updates.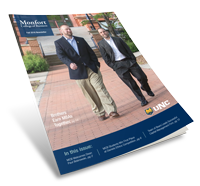 Master Course Syllabi
BACS180: Introduction to Software Engineering
BACS200: Web Design and Development for Small Business
BACS287: Graphical Interface Programming
BACS300: Information Systems
BACS350: Intermediate Web Development
BACS380: Networking and Data Communications Systems
BACS382: TCP/IP Network Security
BACS383: User Interface Design & Development
BACS385: Fundamentals of Project Management
BACS387: Object Oriented System Development
BACS485: Database Management Systems
BACS487: Systems Analysis and Design
BACS488: Senior CIS Project
BACS492: Internship in Computer Information Systems
CS102: Structured Programming
CS200: Object-Oriented Analysis, Design, & Programming
CS301: Algorithms and Data Structures
CS302: Programming Languages
CS350: Software Engineering I
CS440: Operating Systems
CS442: Networking
CS480: Graphics
CS497: Senior Project
Contact Us
Department of Accounting and Computer Information Systems (Software Engineering)
Kepner 2090
Phone: 970-351-2855
"With an awesome variety of courses, the Software Engineering program allows students to explore their different areas of interest. I have been able to take courses in web design and graphical interface programming, as well as networking and information systems. I believe the variety of courses offered within this program will help prepare me for a great career after graduation. The instructors are incredible mentors and advisors. I feel very proud to be a software engineering student at UNC!"
- Cristin DiCesare, Class of 2016