UNC Business Students Win Annual Ethics Competition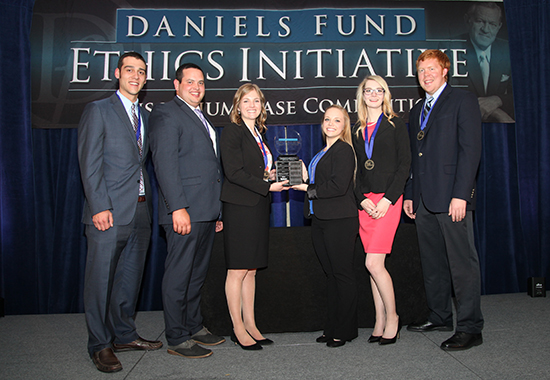 A team of six University of Northern Colorado Monfort College of Business students won the Daniels Fund Ethics Initiative 2016 Consortium Case Competition April 14-15 in Denver.
For the competition, the UNC team analyzed a fictional case of a company acquisition. The students acted as consultants regarding cultural and ethical issues with the acquisition. They presented before a panel of eight judges, representing business professionals from multiple states.
The team consists of seniors Nick Gregory, Finance & Accounting; Lindsay Haines, Management; Thomas Hoffman, Marketing; Sorcha Moldauer, Management; Stephen Salazar, Management; and Renee Skoglund, Accounting.
Professors Sharon Clinebell and Keiko Krahnke serve as faculty advisors and attended the presentation. Clinebell directs the Daniels Fund Ethics Initiative in the college. In addition, UNC Daniels Fund Ethics Initiative faculty fellows are Gal Faganel, Janel Greiman, Michael Martin and Denny McCorkle.
This year's case competition involved 10 business schools that are members of the Daniels Fund Ethics Consortium. In addition to UNC, those competing were University of Utah (second place), University of Colorado Denver (third place), Colorado Mesa University, Colorado State University, New Mexico State University, University of Colorado Colorado Springs, University of Denver, University of New Mexico, and University of Wyoming. University of Colorado Law School students acted as legal advisors to the teams.
About the Daniels Fund Ethics Initiative and Consortium
Reflecting Bill Daniels' commitment to ethics and integrity, the Daniels Fund Ethics Initiative strives to deliver principle-based ethics education and reinforce the value of ethical business and personal conduct. The Ethics Initiative encompasses three components — the Collegiate Program, the High School Program, and the online Case Bank — each with a specific approach and target audience.
The Collegiate Program was launched in 2010 with a $7.5 million grant and eight participating schools, and was renewed for another five years (2015-2019) with an $11.25 million grant and the addition of three more schools. To learn more, visit DanielsFund.org/ethics.