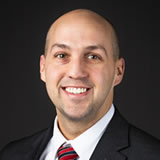 Aaron Henrichsen
Assistant Professor
Finance
Monfort College of Business
Contact Information
Mailing Address
University of Northern Colorado
Finance
Campus Box 128
Greeley, CO 80639
Education
PhD, The Pennsylvania State University, Area of Study: Finance
Dissertation/Thesis Title: Can Fund Flows Anticipate Market Movements: Evidence From
Leveraged ETFs
MS, Arizona State University. Area of Study: Statistics
BS, Brigham Young University. Area of Study: Chemical Engineering, Statistics (Double Major)
Research/Areas of Interest
"Board Expertise and Bankruptcy" (On-Going).
This paper examines the associations of various types of director expertise on a distressed firm's ability to avoid bankruptcy. Since the advent of the Sarbanes Oxley Act of 2002 there have been significant increases in the percentage of board members with accounting, investment banking and legal expertise. In a study of US firms during the period between 1996 and 2011, I find that the percentages of bankers and lawyers on boards are associated with significant changes in the likelihood that a firm will enter bankruptcy. No similar effect is observed for other board member expertise. These results support the idea that board members can act as on-hand consultants to affect management's decisions during distress. Banker board members may aid distressed firms in renegotiating their debt, enabling them to avoid bankruptcy, while lawyer board members may steer the firm to resolve distress through legal proceedings such as bankruptcy.
"Commodity Futures and Equity Market Correlation Around the Financial Crisis" (On-Going).
The correlation of commodity futures returns and equity returns peaked at unprecedentedly high levels during the 2008 financial crisis. Unlike previous economic downturns where equity returns dropped but commodity futures returns largely stayed positive, following the financial crisis equity and commodity futures returns showed much higher than normal levels of co-movement. Using mean-variance spanning tests, I find that though diversification from a portfolio of equities into a portfolio of equities and commodities generally improves an investor's efficient frontier, it did not yield any significant improvement from 2008 to 2010 and little to no improvement in 2007 and 2011. Frontiers post crisis starting in 2012 are again benefited from diversification into commodities. Using quality of predictive power for several factors, I find that the levels of global supply and demand, and to a lesser extent commodity relevant hedge fund assets under management, and market-wide levels of commodity index investment aid in predicting future commodity-equity correlation.
"Do Large Investors Anticipate Market Movements?" (On-Going).
Can fund flows be used to predict future market returns? Existing literature using longhorizon returns and flows concludes that they cannot; but using daily data, I find that flows to leveraged ETFs predict subsequent benchmark index returns. These results remain significant to a lesser extent at the weekly level, but disappear for monthly returns. Separating ETFs into commodity, debt, domestic equity, foreign equity, and real estate sectors, I find that out-of-sample predictability is limited to foreign equity and junk bonds. This suggests that although flows do not predict most market sectors, flows can anticipate movements in markets where there are higher transaction costs or less efficiency.
"Time Varying Closed-End Fund Manager Skill and Fund Characteristics" (Planning).
Investigate empirically the theoretical predictions of a time-varying skill model for closed-end fund managers.
---