Memories of G. Jay Christensen

(B.A., 1961; M.A., 1962; Ed.D., 1969)
---
Greeley and the College of Business have most happy memories. In about 2013 I visited my alma mater and found the campus had not changed too much. It was a thrill to sit at one of the tables in the grassy knoll near Kepner (now Monfort)/Outdoor Commencement Platform and reminisce with my wife about what it was like in the good old days. We later saw the new campus and went through the spacious library facilities. In undergraduate days I had spent many a happy hour in Carter Library, no comparison to Michener Library.
After achieving three degrees from this fine institution of higher learning, you learn to appreciate the phrase: "You can't go home again, and college comes once in a person's lifetime." My time at Greeley those years (1956-60) was one of the happiest times of my life. I glanced over where Cranford Hall used to stand and remembered trudging up the stairways to learn science (three classes in Physical, Biological, and Earth Science). Most of all, that's where in 1956 Fall I met my major adviser, Dr. Kenneth J. Hansen. He became my mentor, my friend, and my confidant. We lost him at age 42 with seven heart attacks. He said Colorado State College was going to be put on the map; after all, Dr. Ken became the Dean forerunner of Monfort College of Business. That series of events happened every summer when he and his Department of Business Education invited the best and brightest spokespeople and professors of business and business education to our campus. I guess that is why I never left Greeley, because the world came seeking us and bringing us to the status of a Columbia University. In my spare time, I majored in instrumental music as an undergraduate and played clarinet in the Marching Band (Pride of the Rockies) and Colorado State Orchestra as well as Pep Band at every basketball game. Go, Bears!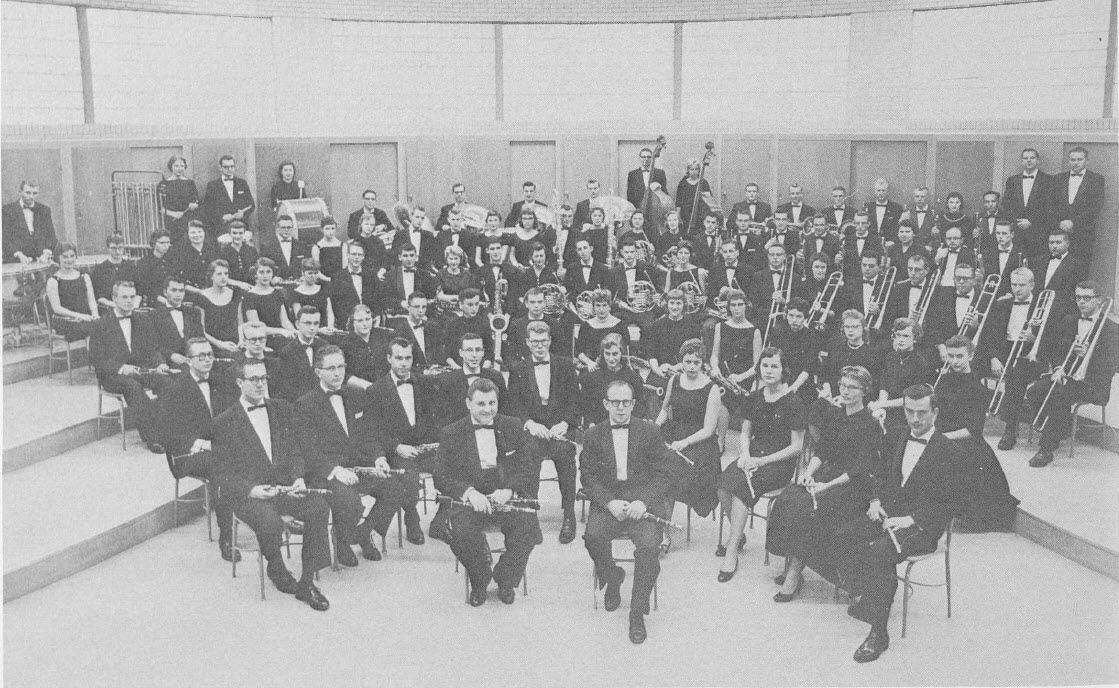 The Concert Band is under the direction of Wayman E.
Walker and the assistant director is James Miller. It is
composed of 93 college students.


That was my first four years at Greeley, including a two-year service in AFROTC. I was lucky to accompany the choir on the piano for that period. It did achieve my love for the Air Force to this day. Let's talk again about Dr. Hansen in the classroom. Picture going to an Introduction to Business or Insurance class and being held spellbound when Dr. Hansen strode to the blackboard and asked us: What three things happened in 1776? We were supposed to answer: Industrial Revolution, Wealth of Nations by Smith, and American Revolution. I always wanted to be prepared, because he would invariably call on me. Dr. Hansen also gave me a love for insurance and understanding all kinds of insurance contracts as well as their importance.
| | | | |
| --- | --- | --- | --- |
| Dr. Kenneth Hansen - 1963 | Dr. Ramon Warmke - 1962 | Dr. Ramon Heimerl - 1963 | Dr. Orvel Trainer - 1963 |
| Dr Mildred Hillestad - 1968 | Dr. Forrest Frease - 1962 | Dr. Lyman Graybeal - 1960 | Dr. John Bothell - 1960 |
Maybe we can't get enough of Dr. Hansen. He taught me my first Gregg Shorthand (the only man in a class of women) for two different quarters, and, to this day, I still use the outlines and save a great deal of time for better listening. Four years went by too fast, and I want to give credit to Dr. Roman Warmke (caring about salesmanship), Dr. Ramon Heimerl (caring about consumer economics, consumer economics and business law), Dr. Orvel Trainer (caring about Economics), and my office services and advanced shorthand professor, Dr. Mildred Hillestad. Life would not be complete without referencing Wayman Walker, my fine band professor, and many joyous band experiences around Colorado every year. Also, I joined Kappa Kappa Psi (national band) and Phi Mu Alpha (national music fraternity). I can't forget to mention Dr. Forrest Frease and his inspiring words in three different classes of Humanities. He later became one of my committee members of the doctoral committee around 1968. I didn't know anything about philosophy when attending Greeley, but I was to meet Dr. Graybeal and Dr. John Bothell (later another doctoral committee member who instilled a love of learning for the subject. It is amazing the fine people you can discover in college.
| | | |
| --- | --- | --- |
| Dr. Dean Arnold - 1963 | Dr. John Damgaard - 1963 | Wayman-Walker-1962 |

Dr. Hansen reminded me about graduating four years later that I should consider a Master's Program. What better place to spend summer than where's the summer cool and learn from the best in the field? I had accepted a position teaching 270 ninth graders every two days at Overland Park, Kansas (suburb of Kansas City, Kansas). One year went fast at Greeley, especially the summer of 1961, by achieving master's graduation at Greeley. By the way, that commencement was memorable, because the graduates were all given towels to clean off their chairs where we were seated. It had rained the night before. The last summer of this graduate work was also memorable because the thesis was on "Helping the Academically Talented in Business Education."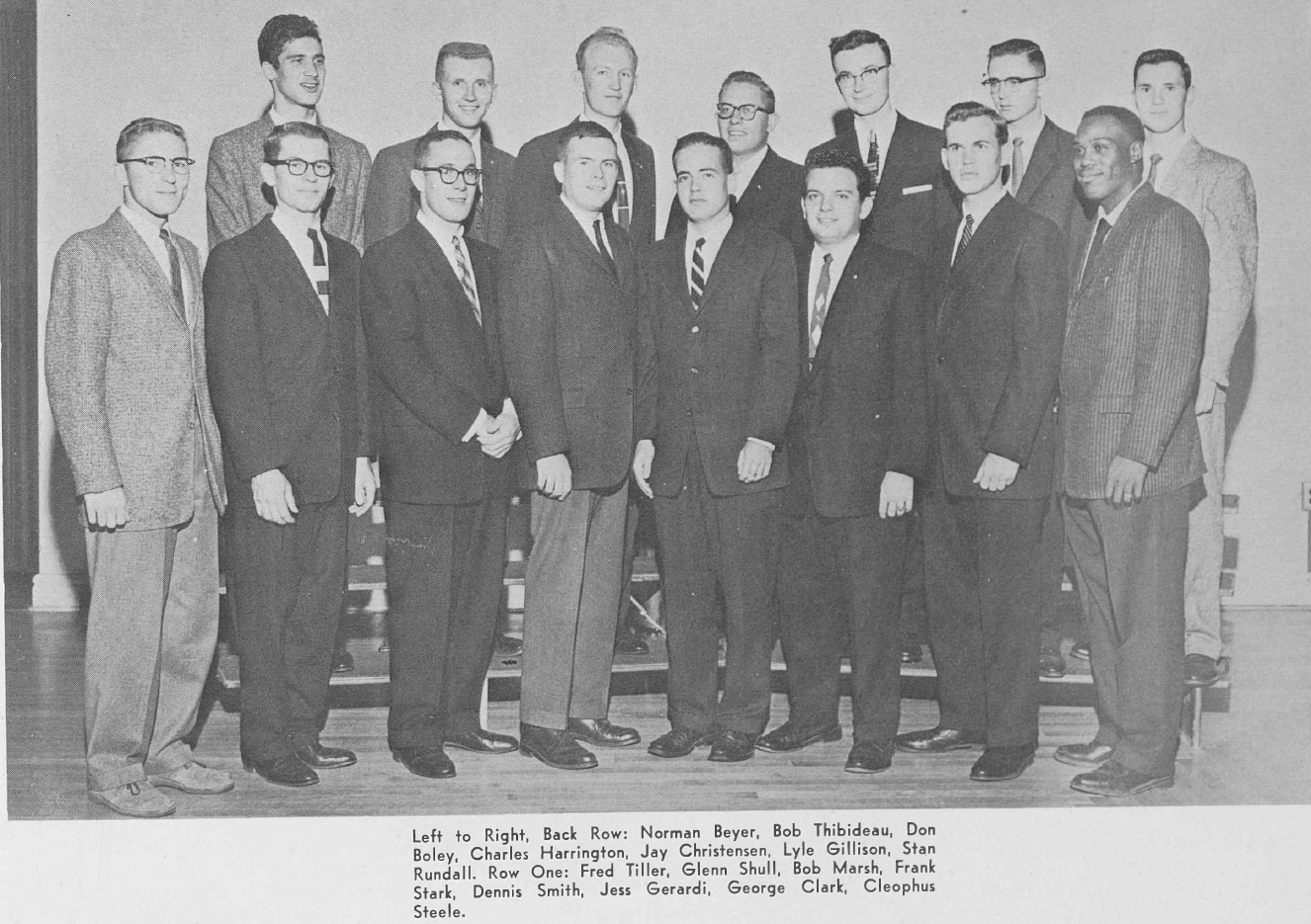 Kappa Kappa Psi - 1959


After Missouri, I also taught high school in Torrington, Wyoming, with Business Math, Business Law, Shorthand, and Typewriting. That occurred for three years, and Dr. Hansen was still encouraging me to consider doctoral work. To achieve that aim, I graduated one quarter early and started a steep climb for another degree at Greeley. I know everyone says: Find another university and broaden your horizons. But Greeley was for me. I have never been sorry to receive three degrees from this outstanding university of learning. UNC is a proud name in our household.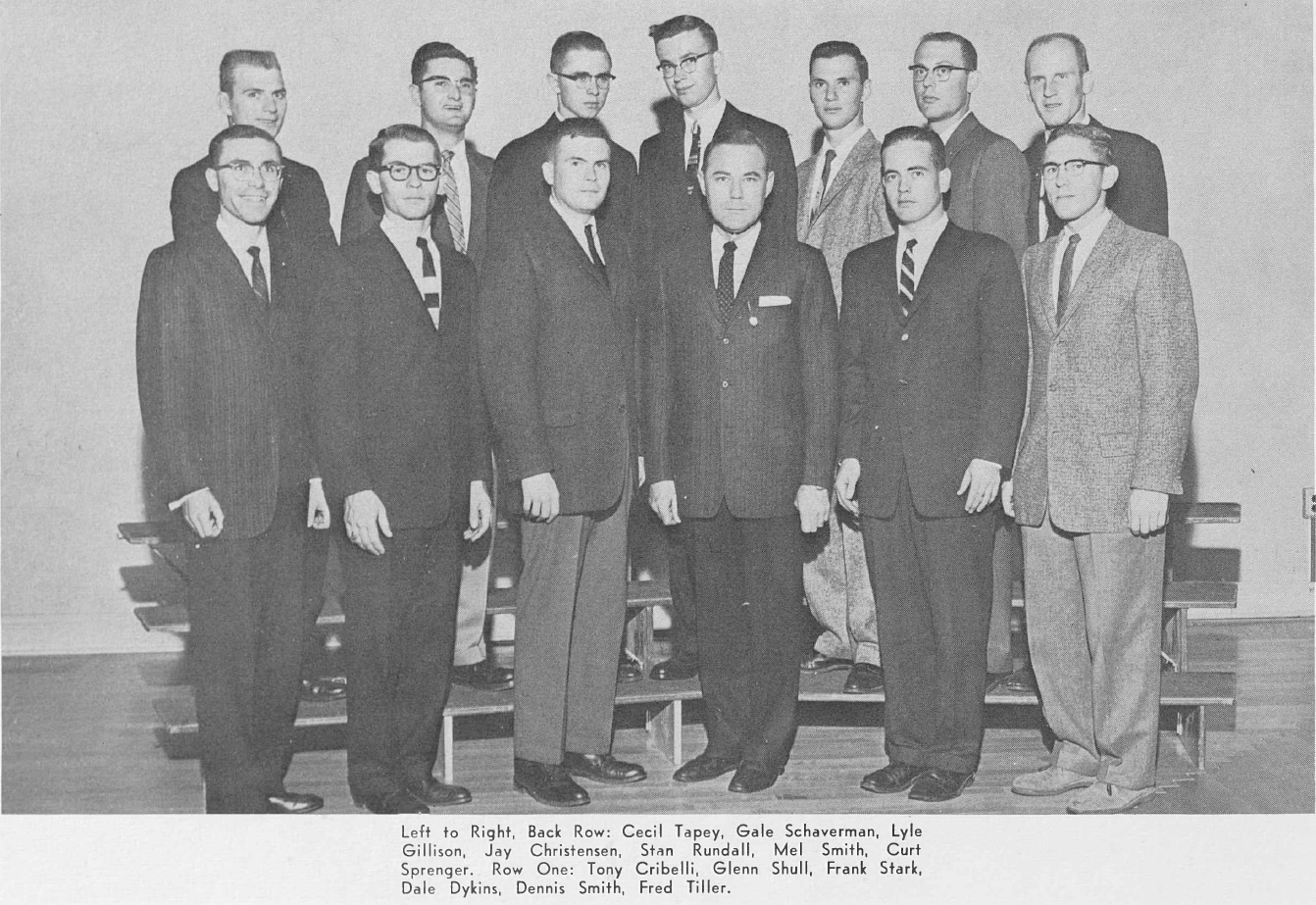 Phi Mu Alpha - 1959


The years went by, and my mentor and Dean forerunner died. The new adviser wanted to seek a new topic for my dissertation. Shorthand and background music were no longer the preferred route. The dissertation chaired by the well-known Dr. Roland Waterman proved to be the ticket to a whole new set of learning about computers and data processing. It was 1969, and computers (rooms of them) were making their mark. I took a fine computer class from Dr. John Damgaard (also member of doctoral committee) and served as his editor for The Society for Automation in Business Education (SABE). The dissertation ended up being about "Key Concepts in Automated Data Processing for High School Students," and it led me on a journey of still loving laptops and what these tools can do for students. It had cost six months of losing hard research on shorthand/background music, but it was worth it. Never did I look at a punched card the same way.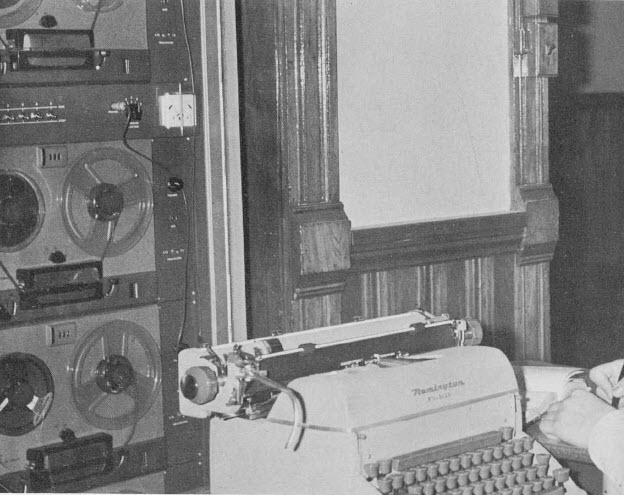 Data Processing - 1963
The journey was now started in university teaching. With the solid background from Greeley, I now taught at two different universities, and, eventually, ended up teaching at California State University, Northridge, for 38 years. That now comprised some 45 years in the teaching profession. The classes have included Analysis of Communications for Business, Administrative Office Management, Forms Management (125 graduates), University 100 (for first-year students), Office Systems Analysis, and Word Processing Management (started one of the first such classes in the nation). Thanks to membership and speaking growth at Greeley in Pi Omega Pi , Phi Delta Kappa, and Delta Pi Epsilon, I have served professionally as an officer in numerous other professional organizations related to office systems, data processing, word processing, and forms management. Greeley gives more than an education; it prepares you for life's opportunities.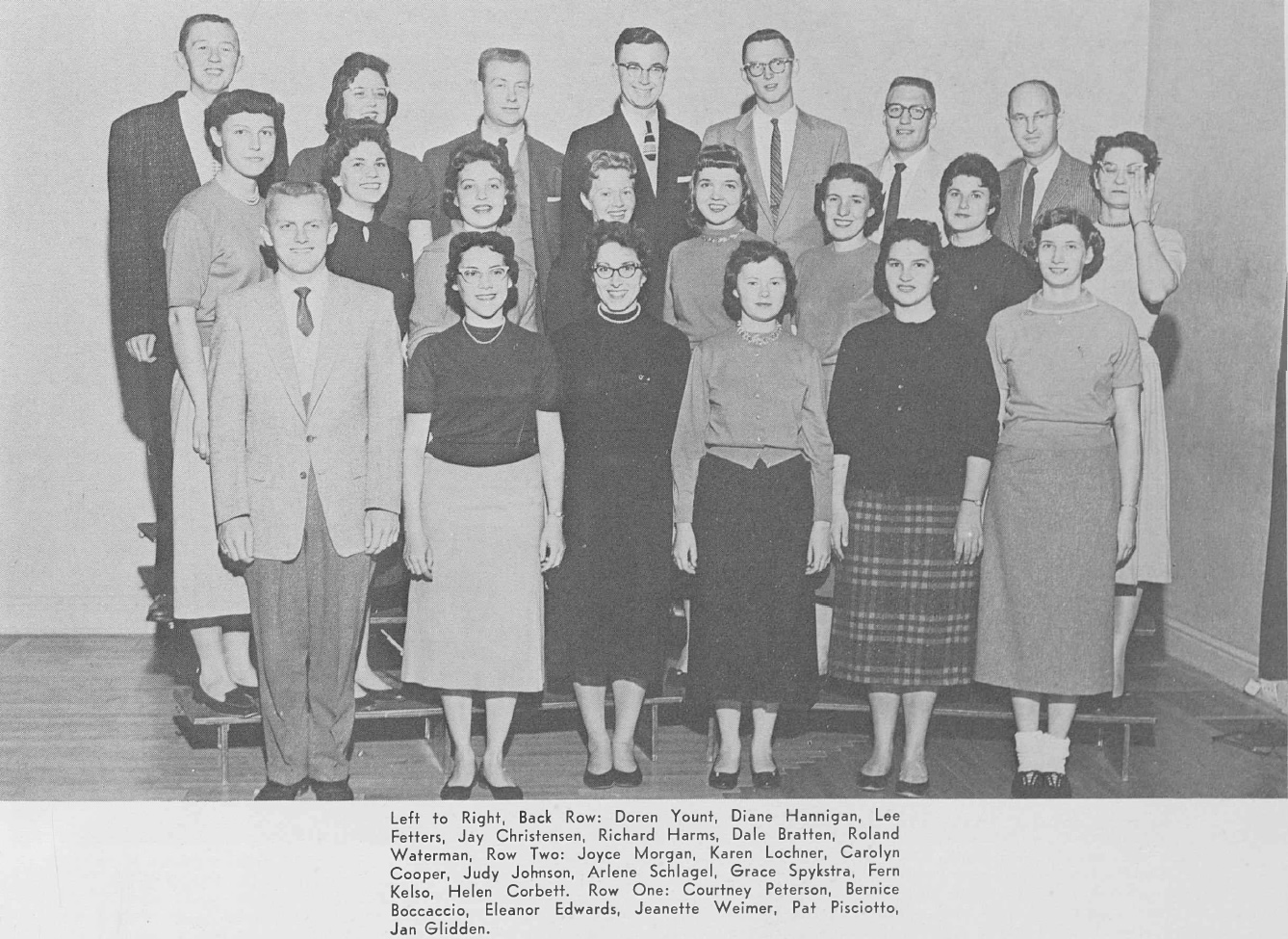 Pi Omega Pi - 1959

The adventure of learning is still with me. I have belonged for the last 10 years to Plato Society of Los Angeles where we (retired professionals, doctors, lawyers, entertainment specialists, engineers, teachers, professors) discuss all kinds of topics ranging from music, literature to history and science. I am scheduled to coordinate the 14 weeks of "Grant: Reluctant President" and take a 10-week study/discussion group in Paul Cézanne as we teach each other the importance of that part of American history and European art. In thinking about the new experiences at Plato, I have never forgotten the summer of 1964 where graduate and undergraduate students at Greeley went on their first European trip of seven countries in one month. We studied the History of Europe, Geography of Europe, and Art of Europe in three weeks on the UNC campus before embarking on the trip of a lifetime. Our beloved professor was Dr. Dean Arnold. Thanks to this first of its kind European Trip, I also met a member of the British Computer Society for the doctoral research.
That personal visit in around 2013 back to Greeley after 50 some years culminated with my viewing some of the business classrooms, seeing the ribbon of stock quotes, looking at the donor honor list (including Beatrice Hansen), and viewing the marvelous technical and digital equipment that make learning worthwhile. Congratulations, Monfort, for your 50th! Thanks, Greeley, for being there for my extended education. Thank you, Dr. Kenneth Hansen, for your work as the forerunner Dean to Monfort College of Business.
Best on your celebration,

G. Jay Christensen (B.A., 1961; M.A., 1962; Ed.D., 1969)
80 Years Young