Delta Sigma Pi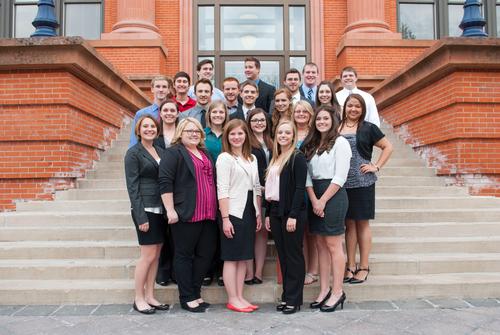 Mission Statement
Delta Sigma Pi is a professional fraternity organized to foster the study of business in universities; to encourage scholarship, social activity and the association of students for their mutual advancement by research and practice; to promote closer affiliation between the commercial world and students of commerce, and to further a higher standard of commercial ethics and culture and the civic and commercial welfare of the community.
Delta Sigma Pi was founded in 1907 at New York University: School of Commerce, Accounts and Finance by Harold Valentine Jacobs, Alexander Frank Makay, Alfred Moysello and Henry Albert Tienken. Today, coast to coast, more than 250 chapters and over 275,000 members support the goals and ideals of the Fraternity.
Candidates for membership in Delta Sigma Pi must receive an invitation to join from the Nu Phi chapter, complete an orientation program, and demonstrate a willingness to perpetuate the ideals of the Fraternity. Members may be men and women of all creeds and colors engaged in the study of business, economics or related fields. Cross-membership in Greek social fraternities and sororities is permitted.
Some of our faculty members include: Ronda Corman, Cynthia Evans, Lynn Hoffman, Tim Jares, Keiko Krahnke, Robert Lynch, Christine Marston, Michael Martin, Christine McClatchey, Janice Payan, Ron Reed, and Gerald Shadwick.
Click on this link to access our national website:
If you are a business or economics major interested in Delta Sigma Pi, feel free to contact us under the "Contact Delta Sigma Pi" tab with any questions you may have or contact one of our officers directly with the information below.
We look forward to talking with you!