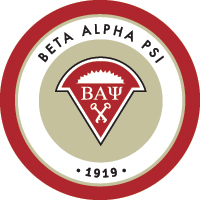 BETA ALPHA PSI is an honorary organization for Financial Information students and professionals. The primary objective of Beta Alpha Psi is to encourage and give recognition to scholastic and professional excellence in the business information field. This includes promoting the study and practice of accounting, finance and information systems; providing opportunities for self-development, service and association among members and practicing professionals, and encouraging a sense of ethical, social, and public responsibility.

Beta Alpha Psi was founded in 1919. There are over 300 chapters on college and university campuses with over 300,000 members initiated since Beta Alpha Psi's formation. Today, Beta Alpha Psi is an international organization with chapters reaching all the way to Australia and New Zealand.

Membership in Beta Alpha Psi includes those persons of good moral character who have achieved scholastic and/or professional excellence in the fields of accounting, finance, or information systems, who have been initiated by an existing chapter and who remain in good standing.

Minimum scholastic requirements for undergraduate membership are set forth in the by-laws. Graduate student initiates must have been accepted and matriculated into a masters degree level program. Individual chapters may establish higher admission criteria.